PCCC 50th Anniversary Composing Festival Awards
Introduction
The list of participants in each of the 9 sections of this Jubilee Composing Festival appears elsewhere on this website.
Overall, 134 authors from 35 countries took part, submitting 272 entries.
Certificates and Prizes for the three best awarded problems in each section (four in the #2 and h# sections) were distributed during the Congress in Crete (October 2010).
The following links will lead you to the 9 awards. Apart from the web publication a concluding booklet is intended.
Twomovers (revised Dec. 1, 2010) | Threemovers | Moremovers | Studies (revised Nov. 22, 2010) | Selfmates | Helpmates | Fairies | Shortest proof games | Retros | All awards in pdf-format (2 Mb)
Our thanks go to the composers, the dedicated tourney judges and director (Dmitrij Baibikov) for their valuable contribution. All of them worked under a tight timetable and miraculously managed to get everything done in time.
Special thanks to Andrey Frolkin (Ukraine) for excellent Russian/English translations.
Thanks as well to FIDE for providing the money Prizes and promoting our mutual relations.
I hope that this kind of Festival will be organized by the WFCC regularly (even in enriched and perfected ways) to celebrate nothing else but the sheer enjoyment of our raison d'etre as global organization – Composing.
Uri Avner
Honorary President of the WFCC
| | | |
| --- | --- | --- |
| | | |
| Vasyl Dyachuk | Ricardo Vieira | Frantisek Sabol |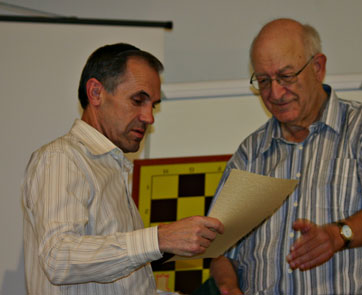 Mikhail Marandyuk and Uri Avner