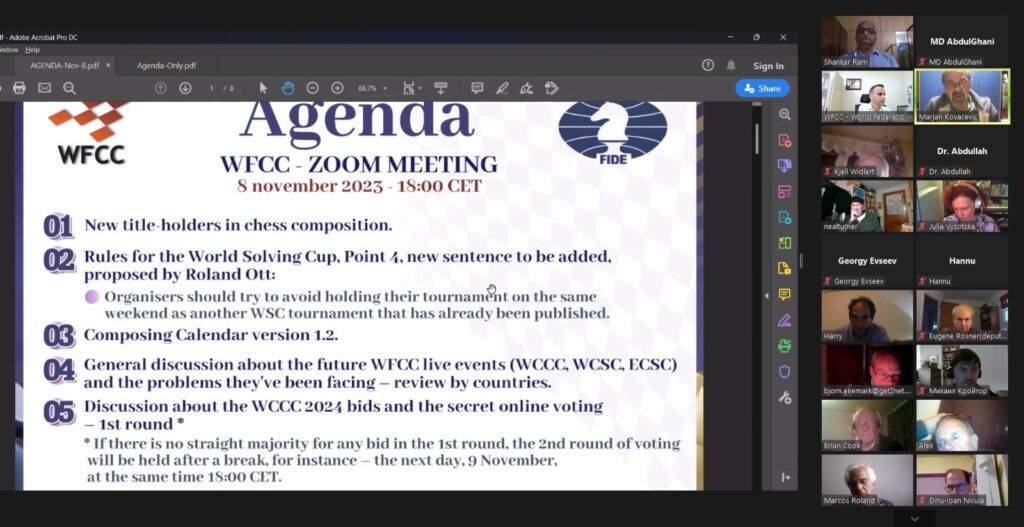 WFCC online Meeting, 8th November 2023
30 Member Countries took part in the WFCC online Meeting that was mostly devoted to discussion about the future WFCC events and the host of the 66th WCCC and 47th WCSC 2024.
At the beginning, the FIDE Album Committee spokesman Harry Fougiaxis announced the new title-holders in chess composition:
Grandmaster: Steffen Slumstrup Nielsen (DEN)
International Master: Karen Sumbatyan (RUS)
FIDE Masters: Sergiy Didukh (UKR), Daniel Keith (FRA), Jan Sprenger (GER), Aleksandr Stavrietsky (RUS)
Congratulations!!
These norms were fulfilled according to the results of the Section D (endgames) of the FIDE Album 2019-2021, published on 4th November.
→read more: WSC rules and discussion by country…
This long-lasting session was interrupted after speeches of some other delegates, to execute secret voting while all participants were still present. Out of 30 delegates in the Zoom Meeting 21 gave vote to Jurmala, four to Rhodes and three to Rio de Janeiro. One delegate didn't vote and one was abstained. After adding two more votes sent by email, Jurmala convincingly won straight majority with 23 votes from 32 delegates.
With such a wide support, we will be preparing for a memorable Congress in Latvia, from 27th July to 3rd August 2024!
After the voting some delegates had to leave, while others continued the review by countries.
→read more: discussion by country…
This Zoom Meeting was excellently organized by the secretary Mohammad Alhallak. He also replaced the UAE delegate Abdulla Ali Aal Barket in presenting optimistic plans about development of solving in the UAE, in neighboring countries and in the whole Asia.
Marjan Kovačević, WFCC president
---