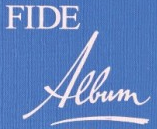 The results of the FIDE Album 2019-21 section D are ready!
A reasonably high number of 1015 studies (not counting 13 duplicates) were received. 873 compositions scored at least 4,5 points (86% of the total entries, a very good percentage). 179 studies out of them scored at least 8 points, which represents a good ratio of 20,5% selected compositions. It is a great pity that we present the results with such delay: one of the appointed judges failed repeatedly to meet the schedule requirements, so at the end of September it was decided that another judge should complete the rest of the work (1/3 of the entries). Our compliments to the substitute judge: he managed to finish his part in slightly less than a month!
Many thanks to the director and the judges for their hard and efficient work!
We shall update and issue the overall list of the title points in the coming days.
Update (6.11.2023): A few hours after the results were announced, the director realised that he had accidentally misplaced the PDF file submitted by a composer. The judges reviewed these 8 studies swiftly: 2 of them (joint compositions) are selected in the album! Numbers in the above post and in the page of the results have been properly updated.
Harry Fougiaxis, FIDE Album Committee spokesman
---