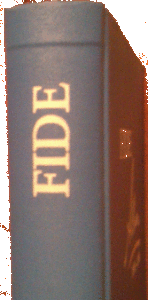 The results of the FIDE Album 2013-15 section G (fairies) are ready!
There were 1909 submissions (including duplicates). Of these, 1478 achieved at least 4.5 points. The ratio of the 294 selected fairies with 8+ points vs. the entries with 4,5+ points is 19,89%.
Many thanks to the director and the judges for their hard and efficient work!
Update 21.02.2018: Three compositions were removed from the list (two of them had not been published in 2013-15 and one was cooked), while one composition was added as the score of one judge had not been recorded correctly in the spreadsheet.
Update 12.03.2018: One joint composition was included twice in the list of selected problems and of course one of them had to be removed.
All announced results are published in the FIDE Album 2013-15 finished sections page.