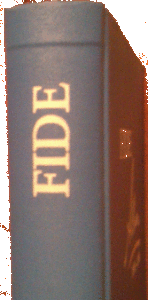 The results of the FIDE Album 2013-15 section A are ready!
One of the initially appointed judges had to quit for personal reasons before the evaluation phase starts and had to be substituted by a reserve judge. There were 1090 compositions scoring at least 4,5 points (out of the totally submitted 1287 entries without counting duplicates) – a very decent percentage of almost 85%. The ratio of the 192 selected twomovers with 8+ points vs. the entries with 4,5+ points is 17,6%.
Many thanks to the director and the judges for their hard and efficient work!
Update (01.07.2017): A composer informed us that he would like to withdraw his entries; he did not clarify the reason. Although we regret his decision, we have to respect it. The page of the results was updated accordingly.
Update (02.07.2017): Thanks to the director's effort, the composer changed his mind; we are glad he did. The results were updated accordingly.
All announced results are published in the FIDE Album 2013-15 finished sections page.