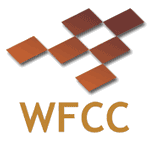 World Solving Cup (WSC) 2015/2016
Short review:
The World Solving Cup and its rules were established at the Ostróda WCCC.
The WSC includes rated tournaments organized by countries – FIDE members. Each country may nominate one such tournament which should be open for all.
A season of the WSC is a period between the two WFCC congresses, with the WCCC Open as the final tournament of a season.
Countries should register their tournaments to be included in the WSC before or during the WFCC congress, but not more than one month later. A list of registered tournaments is published on the WFCC site. The official announcement of each tournament (or a link to it) is published on the WFCC site at least two months before it starts.
The best solvers from each tournament get WSC points. Depending on the category of a tournament a specific number of the best placed solvers get points. Tournaments are sorted into seven categories depending on the average rating of the ten participating solvers with the highest ratings.
The sum of a solver's four best tournaments is taken into account for the WSC final result.
The Director for WSC 2015/16 is Marko Klasinc – marko@mar-vik.si or marko.klasinc@guest.arnes.si. Announcements and any questions are to be addressed to him. Assistant Directors are Marek Kolcak and Vidmantas Satkus.
A WSC subsection with rules and calendar of the tournaments is published in the Competitions/Solving section.
Related note:
Solving tourneys database by Luc Palmans is updated and moved to http://www.kunstschach.ch/pdb.html. The database provides problems of tournaments since 1977 and will be updated periodically with new and missing problems.