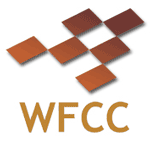 The WFCC is pleased to announce the results of the 2013-15 World Championship in Composing for Individuals. The WCCI was conducted, as usual, in 8 sections and attracted a record number of 2862 entries by 248 composers from 41 countries. We are grateful to Dmitry Turevsky, the director of the championship, who uploaded all entries on the site, co-ordinated flawlessly the 40 judges and prepared an excellent and very comprehensive report. All judges worked smoothly and submitted their scores on time. The members of the supervising panel resolved a few minor issues without interfering to the judges' work.
Congratulations to the winners and thanks to all participants who made the championship such a great success!
The ceremony and the award of trophies will be held in this year's congress in Belgrade.