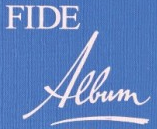 The results of the FIDE Album 2019-21 section G are ready!
A high number of 1479 fairies (not counting 19 duplicates) were received and, as in the previous album, they were split in two groups: G1 for problems without fairy conditions (729) and G2 for those with fairy conditions (750). In each group there were three judges with each team of judges working independently. 1274 entries scored at least 4,5 points (86,14% of the total entries, a very good percentage). 383 compositions out of them scored at least 8 points, which represents a high ratio of 30% selected problems. Of course the respective ratio varies in the two groups. Full statistics are given in the page of the results.
Many thanks to the director and the judges for their hard and efficient work!
Harry Fougiaxis, FIDE Album Committee spokesman
---