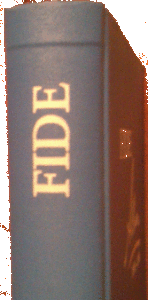 The results of the FIDE Album 2013-15 section E (helpmates) are ready!
An impressive number of 2583 entries (incl. duplicates) were received and they were split in three groups: E1 for h#<=2, E2 for h#2,5 and h#3, and E3 for h#>3. The h#2s dominated once more. In each group there were three judges with each team of judges working independently. 2027 entries scored at least 4,5 points (78,5% of the total entries, a decent ratio for such a popular genre). 305 problems scored at least 8 points, which represents a reasonable ratio of 15% selected problems; of course the respective ratio varies in the three groups. Full statistics are given in the page of the results.
Many thanks to the director and the judges for their hard and efficient work!
Update 5.12.2017: An anticipation was found for a selected h#2 which is now removed form the list.
Update 14.12.2017: A selected h#2, which is already included in the 2010-12 album, is now removed from the list.
All announced results are published in the FIDE Album 2013-15 finished sections page.