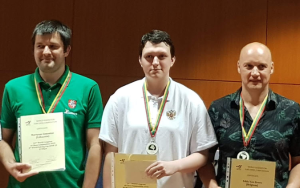 After a fascinating race in the last rounds the Russian European Champion 2019, junior solver Danila Pavlov (RUS) has won the 4th World Solving Cup. There have been 19 tournaments including the Open Solving of the ECSC and the WCCC with total of 85 World Cup points winning solvers.
Final top five: 1. Danila Pavlov (RUS) 139 points (+3), 2. Martynas Limontas (LTU) 136 points (+23), 3. Eddy Van Beers (BEL) 115 points (+/-0), 4. Aleksey Popov (RUS) 113 points (+5), 5. Piotr Murdzia (POL) 103 points (+41).
Open Solving Tournament WCCC 2019 – 19th tournament of World Solving Cup 2018/2019
Participants: 100 | Winner: Piotr Murdzia (POL) ahead of John Nunn (GBR), Michael Pfannkuche (GER), Martynas Limontas (LTU) and Boris Tummes (GER).
Average rating of top ten solvers: 2573.88 | WSC category: 2
David Hodge (GBR) with 12th place and 2nd FM norm
More details are published in Competitions → Solving → World Solving Cup (WSC) → 2018/19 Calendar.