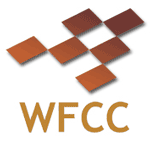 WCCI 2019-21 attracted a bit more than 250 composers with 2600+ compositions. Participants should check the list of entries on the Entries page and report comments to the director, Valery Kopyl (email: v.kopyl@i.ua) and to the webmaster (email: webmaster@wfcc.ch).
The Entries to the 2019-21 WCCI can be found from the TOP EVENTS menu on the right and on the Competitions/Composing page, WCCI section:
Director of WCCI greets all participants and expresses his gratitude for the entries presented and proper reaction and assistance in working process.
---