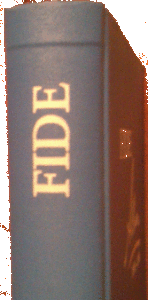 The results of the FIDE Album 2013-15 section F are ready!
848 compositions scored at least 4,5 points (out of the totally submitted 1037 entries without counting duplicates) – a very decent percentage of 81,7%. The ratio of the 179 selected selfmates with 8+ points vs. the entries with 4,5+ points is 21,1%.
Many thanks to the director and the judges for their hard and efficient work!
This report finalizes the judging phase of the current album. The list of the album points, including the results of sections E, F and G, will be updated soon.
All announced results are published in the FIDE Album 2013-15 finished sections page.