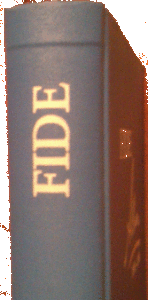 The results of the FIDE Album 2013-15 section D are ready!
The initially appointed director had to quit in the middle of the process for personal reasons; in agreement with the spokesman of the studies committee, Siegfried Hornecker was selected as a substitute who wrapped-up the so far available material and finalized the work on time. There were 580 compositions scoring at least 4,5 points (out of the totally submitted 834 entries, incl. duplicates) – a rather moderate percentage of 70%. The 13,97% ratio of studies with 8+ points vs. the entries with 4,5+ points was marginally lower than 14%, so also the compositions with 7,5 points are selected.
Many thanks to the director and the judges for their hard and efficient work!
All announced results are published in the FIDE Album 2013-15 finished sections page.