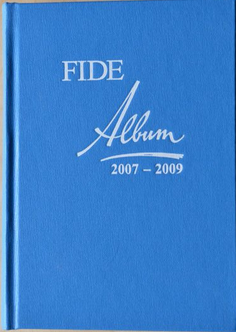 The FIDE Album 2007-2009 (the official selection of the world's best and most representative chess compositions) has been published. 640 pages, 1426 diagrams, 312 authors. Comments, indexes, registers, statistics in English.
Hard-cover blue clothbound. Price 45 euro (surface shipping free). Discounts if more copies ordered. Orders to Peter Gvozdják, peter.gvozdjak@gmail.com. Sample pages available as a PDF file.
WFCC is glad that the new editorial team continues the work of the old team keeping the same high-quality standards. Our sincere thanks and congratulations to all those who contributed to the project: directors, judges, indexers and editors. We updated the relevant pages with the statistics of both 2007-09 and 2010-12 albums (the latter is currently in progress).