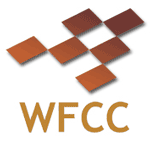 WCCI 2013-15 broke all the records! 
By far the biggest final numbers: till the last day (January 20th) 2862 entries by 248 composers from 41 countries arrived! 
For the first time, all entries publicly available on the "Entries" page (click on the numbers of problems sent by each composer).
Previous records: 2319 entries (2004-06), 227 composers (2010-12), 38 countries (2001-03).