48th Meeting of the Permanent Commission  of the FIDE for Chess Compositions  in Eretria (Greece) September 3-10th, 2005

Sitting from left: Avner, Harkola, Rice, Widlert, Valois Standing: Gurgenidze, Kovacevic, Vladimirov, ellinghoven (back), Rosolak, Prcic, H. le Grand, Reizen, Klasinc, Nicola, Formanek, Zajic, Petkov, Laborczi, Palmans, Caillaud, Herniz, Maeder (back), Aunver, Satkus, Ketris, Enemark
30 member countries were present.

President John Rice (Great Britain), secretary Paul Valois (GB).

The results of the World Championship in Composing for Individuals (WCCI) 2001-2003 are final.

8th World Chess Composition Tournament (WCCT) will be announced late this year on the PCCC web-site. The themes and judging countries were selected. The director is Hans Gruber (Germany)

International solving tourney January 22, 2006.

A new composing tourney for beginners will be organised by Russia.

All sections for the FIDE-Album 1998-2000 are ready. Publication expected in 2006. New titles for composers were granted on the basis of the preliminary selections.

New titles: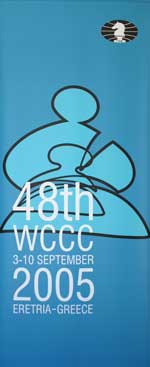 Grandmaster for Chess Compositions: Udo Degener (Germany), Nikolay Kralin (Russia), Franz Pachl (Germany), Oleg Pervakov (Russia),
International Master for Chess Compositions: Reto Aschwanden (Switzerland), Alexander Bacharev (Russia), János Csak (Hungary), Stefan Dittrich (Germany), Wassilij Djatschuk (Ukraine), bernd ellinghoven (Germany), Václav Kotesovec (Czech Rep.), Ludovit Lacny (Slovakia), Jorge J. Lois (Argentina), Mario Parrinello (Italy), Valery M. Shavyrin (Russia), Stefan Sovik (Slovakia), George Sphicas (USA), Sergeï N. Tkachenko (Ukraine),
FIDE Master for Chess Compositions: Igor Agapov (Russia), Michal Dragoun (Czech Rep.), Valery Gurov (Russia), Christopher Jones (Great Britain), Viktor Kapusta (Ukraine), Evgeny Kolesnikov (Russia), Thierry le Gleuher (France), L'udovit Lehen (Slovakia), Juraj Lorinc (Slovakia), Yury Marker (Russia), Waldemar Mazul (Poland), Daniel Papack (Germany), Philippe Robert (France), Ladislav Salai jr (Slovakia), Andrey Selivanov (Russia), Sergeï Smotrov (Kazakstan), Anatoly Stepochkin (Russia), Sven Trommler (Germany), Viacheslav Vladimirov (Russia), Peter Wong (Australia)
FIDE Solving Master: Yohanan Afek (Israel), Vlaicu Crisan (Romania), Alexandr Leontiev (Russia), Dmitry Pletnev (Russia)
International Judge: Yakov Rossomakho (Russia) 2#, 3#
Next meeting in Wageningen, Netherlands from 29th July until 5th August 2006.